Three to one: Masterworks unites the music department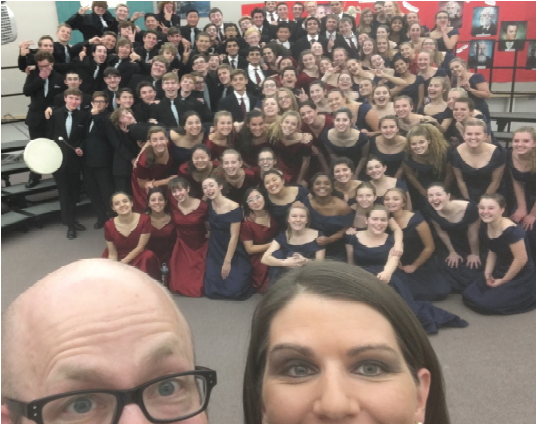 Hang on for a minute...we're trying to find some more stories you might like.
Masterworks: an American Celebration, on Nov. 8 , was an eclectic gathering of Cherry Creek High School's musical talent celebrating American veterans both past and present. Masterworks is the only concert that combines Choir, Orchestra, and Band into one performance.
"It was really special for the audience, because it was a really positive patriotic event focused on our common American values instead of our differences," Senior Rachael Moes, Co-president of Meistersingers said.
After the singing of the national anthem, the Meistersingers, Girls 21, and Troubadours harmonized to perform their version of John Newton's Amazing Grace. each reverberation, a memory.
The Orchestra and Band performed a medley, each military branch's hymns, during which any veterans, current miltary
members, or family members of people who have served stood up during their branch's song.
Masterworks was shorter this year than previous. "[The length] allowed for each piece to have an impact on the show without losing the audience's enthusiasm or attention," Junior Mikala Jun, another Meistersinger said.
"There was more energy this year than in previous years," Sophomore Paige Gillespie, a Girls 21 singer, said.
Each Band, Choir, and Orchestra performed one piece from American history. "Everyone accompanied each other and had their own songs, the Orchestra's solo was a hoedown," Junior Tiffany Chang, a violinist, said.
During the show it seemed as if each student effortlessly played in harmony, but weeks of hard work preceded the event. Senior Gloria Jung, the first chair of the second violins, said, "our Orchestra had a little trouble with unity beforehand but we really pulled it together."
Over the past four years there has not been a Masterworks at this caliber.
"It was definitely a little bittersweet to know that after four masterworks this was my last one, but it was such a positive celebration of the veterans that graduation wasn't really on my mind," Moes said.