Tennis tops Regis
Creek tennis wins State for the first time in three years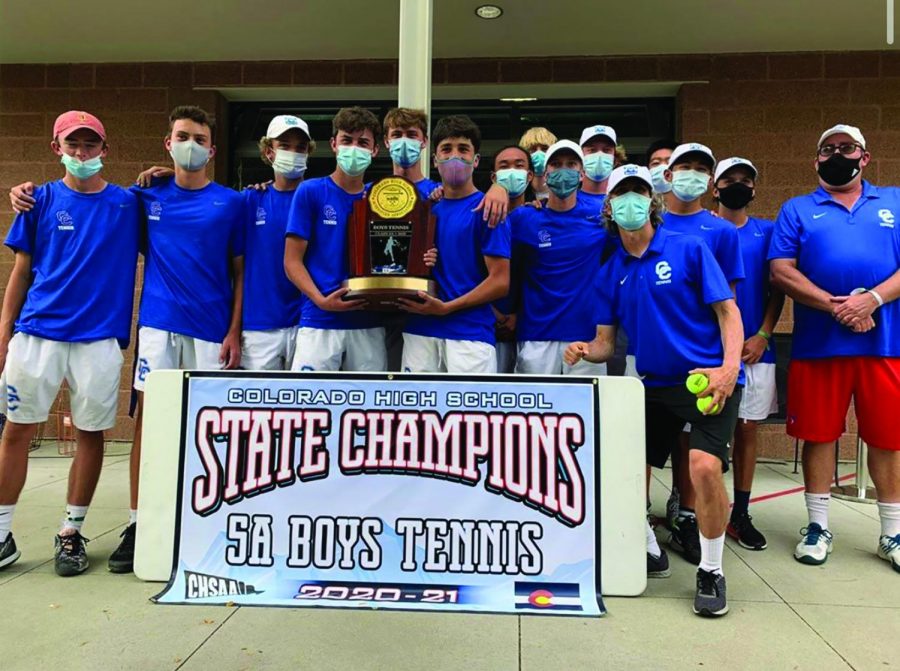 Even before we knew the toll the COVID-19 pandemic would take, CHSAA was one of the first organizations to take action and cancel all high school sports in the state of Colorado.
So when most school districts in Colorado announced classes would be back in person in August, many people were unsure of how sports would be affected, including tennis.
"We missed out on a lot of team traditions such as our trip to Pueblo and our invitational," senior Braden Mayer said. "But we are gonna win State this year so that should make up for the craziness of this season."
As it turns out, Mayer's prophecy would come true.
"[I'm] so happy to bring the title back to Creek where it belongs," Mayer said after the State Championship. "That's 43 state titles in the last 48 years.
Despite all the bonding issues that come with any environment in which social distancing is required, the team managed to, after three years, bring the state trophy back to Creek.
"It was one of the best feelings of my life," Mayer said. "The joy of winning with my team, bringing the title back where it belongs, and sharing a State Championship with my dad was one of the best moments of my life."
Tennis was one of the few fall sports that weren't moved to spring. But from the beginning, coach Arthur Quinn knew this wouldn't be an ordinary season.
"We have a fairly socially distant sport," Quinn said. "But we have taken steps to ensure that our pods were in order and we didn't have any line drills or game courts that would violate safety standards."
Although it was back, the tennis program had some restrictions on how their season would be, compared to previous years.
"Our match schedule was reduced from ten matches and two tournaments to nine matches and no tournaments," said Quinn. "But this was really nothing for us, we were fortunate to actually get to compete and have a season. Not all sports were."
Despite being an independent sport, tennis requires certain bonding within the squad so that the team can function at its best, and at these times, safety measures may often get in the way of bonding.
"I feel that it limits our team from bonding and makes it extremely different than last year, senior Blake Holst said. "COVID has just limited contact as players can't touch anyone or balls when playing matches. Practices are easier because we can be more carefree but it still requires masks and distancing."
As it turns out, even in these crazy times Creek's tennis team was able to bring the trophy home and make history once again.
"The players have been very professional," Quinn said. "Acting in a responsible, positive, and conscientious way to the fluidity of the situation. I'd expect nothing less from our program or our school."