Track and field getting off the blocks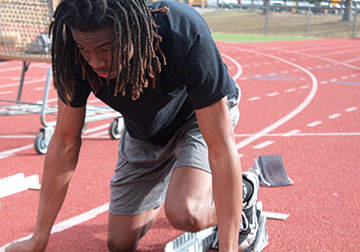 As the winter snow begins to melt off the vacant football field, the sand becomes poured into the box, the vault is set up, and the lines are repainted. A single spring sport begins their 2018-2019 season over a month before the first starting pistol is shot. 
The field will soon be heavily occupied when the spring sport of track and field begins the journey of their five-month long season on March 16 at the Thunder Ridge invitational.
Coming off of a second place finish from last year's state championship, the team is looking forward to a strong 2018-2019 season. 
The Bruins kicked off their preseason training on a cold and snowy Jan. 15. 
The expectations for the team are high this year, coming off an impressive season last year. 
Head Coach of the varsity track and field team Delisa McDavid has high hopes for this years team.
 "On the boys side we have great pole vaulters, sprint core, and great distance runners, and on the girls side we have great pole vaulters, and our distance group is going to be awesome."
McDavid believes there is no weak point in this year's team, and they should be able to achieve another stellar season.
Although they are still a younger team, they still hold major talent, and with time to learn and grow stronger, this team could be unstoppable. With a strong and now more experienced younger team, the Bruins are expecting to have an even more successful season this year.
Track and field is a sport that has over 20 different events happening in one meet. This may lead people to think that it's a individual sport, but it's more than that according to Head Coach McDavid.
"Everyone always says that track is an individual sport, but it's really not, it's actually a really close team, but within the event groups they form their own little teams"
These groups include pole vaulters, sprinters, long distance, and jumpers.
With the new chemistry this young team has built over the past two years, the track and field team has a good chance at obtaining the state championship title.
Head coach McDavid isn't the only person with high hopes for this year's team, but players do as well.
Junior Emma Stengel who is in the sprint core for the varsity track and field team weighed in on this year's season.
"I expect that a lot of the team will go to state, and I expect that we will have very fun practices and get stronger together," Stengel said.