Bijan: the man, the myth, the meme
In the soft stage lighting of the Grandview High School theater, Cherry Creek High School Wind Ensemble elegantly makes their way onto the stage. 
About to perform at the Colorado Band Master's Regional Festival, each student is dressed to the nines in their handsome tuxedos and classy performance gowns. 
The entranced audience gazes across each student until something catches their eye. One student is dressed perfectly head to toe – except for one thing.
He doesn't have shoes on.  
Senior Bijan Chamanbahar stands out from the crowd. 
Many students at Cherry Creek admire Chamanbahar for his humor and ability to make anyone smile. 
Senior Sarah Bordiuk believes he is funny, interesting, and energetic. 
"He is probably one of the funniest people I know," she said.
Part of his charm comes from his unique preferences in pop culture, such as in his taste in music.  
 "I listen to a lot of different genres, from Minecraft rap parodies all the way to Moana Disney songs," Chamanbahar said.
Oftentimes he uses his whimsical music to amuse passersby in his 1989 420 SEL Mercedes.
"I have the Minecraft theme in my car actually, and sometimes when I drive by the middle schoolers when they're walking, I just turn it up all the way," he said. 
 "He always is saying weird things," Bordiuk said. "But things like different memes and new memes. Always up on the new lingo. He is like the meme lord."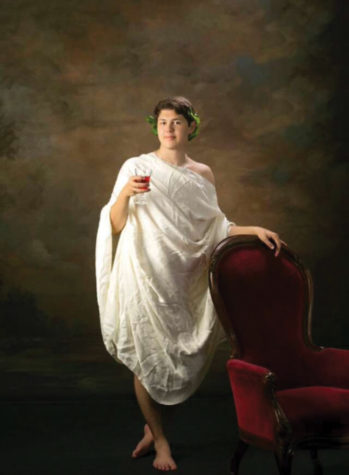 Although his reputation is mainly due to his comical personality, Chamanbahar possesses other talents that many aren't aware of.
"I play the trumpet, and I have been trying to get into saxophone for a while. I also have the guitar, which I've gotten extremely rusty at, but I peaked in freshman year," Chamanbahar said. "I'm pretty good at the recorder. I can do 'Darude Sandstorm', the Mii theme song, and 'Mask Off'. I tried to play the slide whistle, but the one I got was absolute trash and that didn't work out."
Keeping his goals reasonable, Chamanbahar would like to master catching grapes in his mouth. 
"Yeah, I've been working on it," he said. "I can get it like seventy-five percent of the time. Now, I've got the angle and everything."
Even this skill poses its difficulties. 
"You don't even know. It's so scary when a grape slides in too smoothly and gets stuck in your throat."
There is one skill Chamanbahar has already mastered and turned into a          consistent hobby.
"Sleeping. It's got to be sleeping because it's literally all I do. And it's not night sleeping, it's nap time. I go home. I just take a nap. I know I have stuff to do, but I do it anyways."
One of Chamanbahar's friends, senior Nina Yee, will always remember Chamanbahar's unique style.
"In Marching Band on 'superhero day,' he wore this Batman hat, and I came up to him, and he came by me with this really smug, cool look on his face," Yee said. "And he pumped the hat, and it could flap. I thought that was the most hilarious thing." 
Often people ask Chamanbahar how to be funny, and he has one piece of advice.
"If you try to be funny, it always fails."