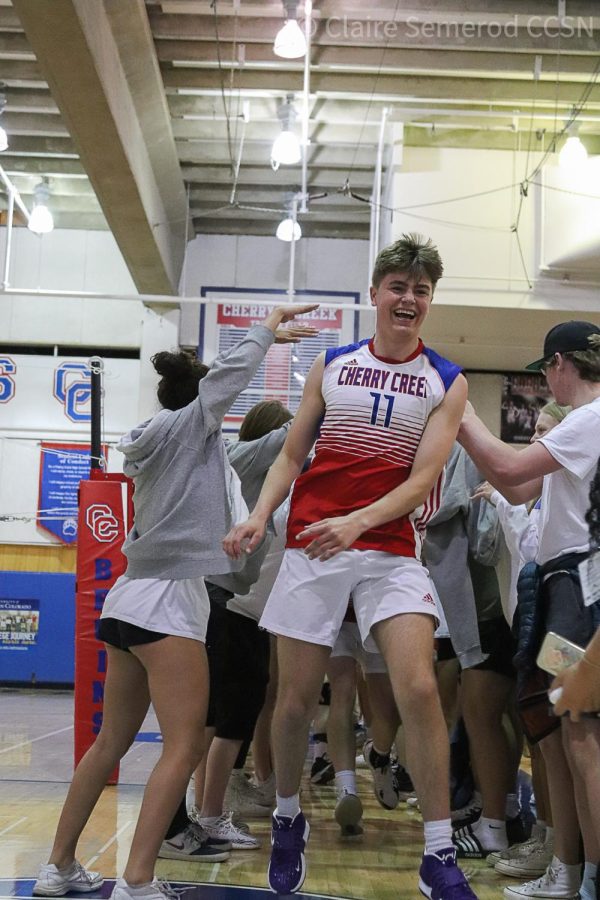 Claire Semerod
One of the most anticipated games for the varsity volleyball squad, Pac The Place not only succeeded in filling up the bleachers with students and families dressed all in white but also delivered a huge win for the Bruins.
Creek won by going 3-1 in the best of five against Valor, handing them their first loss of the season and knocking them down the state rankings.
After a hard fought first set, in which the game was tied during multiple occasions, Valor pulled away to take it 25-21 and take the 1-0 lead in sets.
Creek not only came back from Valor in the first set but they also managed to stomp them into the ground, winning three in a row including a 25-11 wallop in the third set. Not once in the three set wins did Valor exceed over twenty points.
Individually, it was senior Captain Miles Manthe who had one of the biggest nights with a team leading 14 kills, appropriate enough considering he leads the team in overall kills with 99 
Senior Josh Guthrie also had an impressive night, being the only player with a 100% serve rate and led the team with 3 aces.
This win helped the squad rebound after a tough loss to Bear Creek, in which they fell three sets to two. Since then, they've steamrolled through the competition with five wins in a row, including sweeps of Highlands Ranch over the weekend and Grandview on Tuesday night.