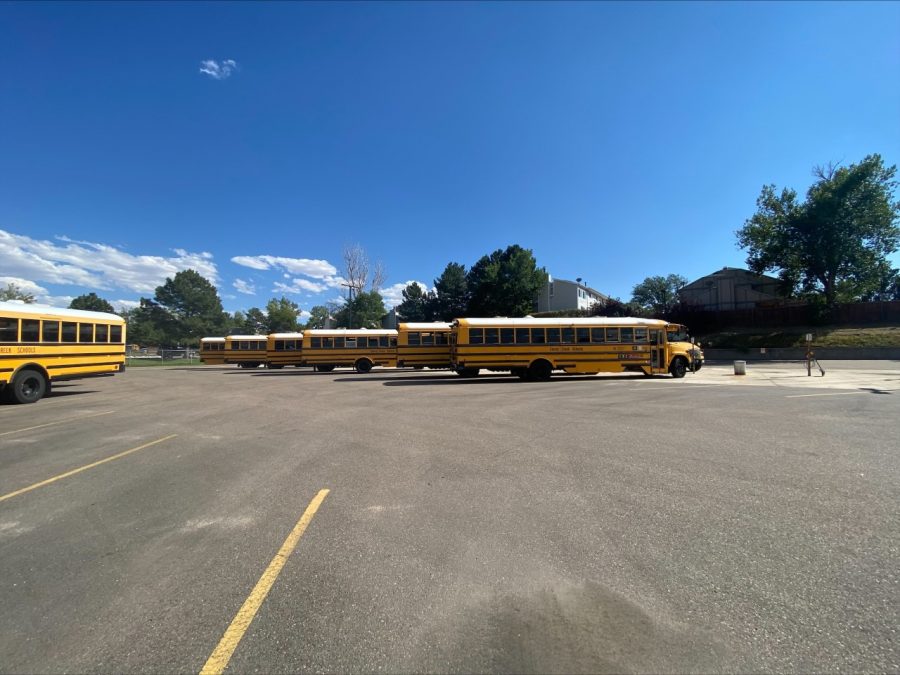 Annabelle Crouch
If you're short on time:
This year, most Creek buses have been completely full. Some students who ride the bus have been late arriving at school and late getting home after school. 
The Cherry Creek School District is short 40 bus drivers due to the nationwide driver shortage.
CCSD's transportation team has been desperately trying to make sure it's students have reliable transportation after a year of band-aiding the problem (due to the COVID pandemic). 
CCSD's Director of Transportation does not think that this problem will be resolved any time soon, but his goal is to hire 15 more drivers by the end of 2021. 
Students shared conflicting opinions over sitting in the crowded buses with the Delta variant.
A group of lingering students watch as their bus creeps around the corner. The anticipation is real as they prepare for the race of a century, and what's on the line is a big deal: getting to class on time. Some will make it this round, while others will have to wait another 30 minutes as the school bus does its round and comes back.
"They literally cannot put another student on the bus," senior Kavery Kallichanda said. "[So, for some students], it takes twice as long to get home or to get to school."
Cherry Creek School District transports about 24,000 students every day. For these thousands of kids, there are currently only 235 school bus drivers. CCSD is in a constant struggle to fill the 40 vacancies that have accumulated over the past several years.
America fell into a nationwide driver shortage seven years ago in 2014. There simply weren't enough drivers with qualified CDLs (Commercial Driver's Licenses) to fill the critically needed spots throughout the country. This epidemic had impacted all levels of the food chain — everywhere from commercial trucks to school buses. And since this all started, Creek's transportation team had been desperately trying to find a solution.
Many members of the transportation team have been working 60-65 hours a week — which is 20-25 more hours than they were hired to put in. CCSD's Director of Transportation, Gary Thompson, compared it to having 40 teachers absent for seven years straight. Work can start to pile up, and Thompson said that burnout was a big issue creeping down on the team.
Unlike the earlier six years, the 2020-21 school year wasn't as much of a problem. 
Although the COVID-19 pandemic was a horrific worldwide event, it did temporarily ease the nationwide driver shortage. Thompson described how the online and hybrid schedules during the pandemic provided a relief for the transportation department. Now, however, with students back at school in-person full time, it's as if the band-aid has been ripped off.
"Since the buses weren't as full, we could cover up for open routes — nobody knew any different," Thompson said. "The hard part with this year, is that everybody is back…but the buses are full, and we can't combine routes, so there's no way we can hide anything."
Last year, bus drivers were pitching in for the safety of students in various, unique ways. This year they must take the same amount of precaution through their cleaning and safety methods. These include everyone wearing masks inside buses, keeping the windows open, and disinfecting the entire bus after AM and PM routes.
And while CCSD understands the threat of the Delta variant, the transportation department has no choice but to run at full capacity. Unfortunately, even at full capacity, with the lack of drivers, students are not arriving at school on time. To cope with the issue, CCSD is looking into routing, GPS, and student tracking software. Thompson's current goal is to hire 15 drivers by January or April and to hopefully add on from there. 
"I like to think there's a light at the end of the tunnel," Thompson said. 
The steps toward this light might be long and arduous for students and the drivers. Creek students seem to understand this, but are having a difficult time with its impact. 
Sophomore Alec Doherty has the second to last bus stop on his bus route in the morning. He explained that the bus is already busy by the time he gets on, with 2 to 3 people stuffed into 2 seater bus stools. 
"We have to wear a mask on the buses, but having too many people so close together…does feel a bit unsafe in my opinion," Doherty said.
Kallichanda, on the other hand, isn't too worried about her safety on the crowded bus. She explained that all she can do is keep herself safe — that there isn't much more she, or the drivers, can do about the situation.

"He [my bus driver] keeps apologizing…[saying] 'I'm sorry, thank you guys for being patient, thank you guys for understanding," Kallichanda said. 
While the transportation team grapples with this driver shortage, students acknowledged the need to be aware and kind to our drivers.
"I feel really bad because it's not his [my bus driver's] fault — he's doing the best he can. I mean, everyone has to deal with it." Kallichanda said.
Apply to the CCSD transportation team