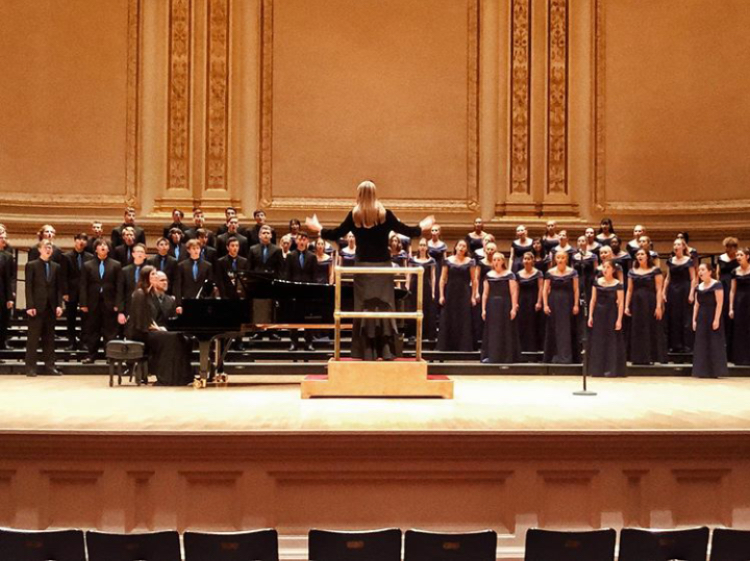 The voices of Girls 21 and Troubadours resonated off the walls of Carnegie Hall in New York City.
Carnegie Hall is in Midtown Manhattan and is known as one of the most famous concert halls in history. It seats 2,804 in the biggest auditorium there. Cherry Creeks High School's very own Girls 21 and Troubadours choir got the opportunity to perform there on November 11th.
 "Anytime we get the chance to take it out of the room, even if its just in the hallway, you know with students walking by or the concert hall when we do our performances or like this Carnegie Hall, it means a lot to be able to take what we do and share it with people," Choir Teacher Adam Cave said. 
For the first time Troubadours and Girls 21 performed together. That was not the only highlight of the trip because they got to explore the city. It was described as an unforgettable experience that was shared between the two choirs.  
"Performing in Carnegie Hall is incredible but I think also exploring the culture with everyone was really cool to be in a new city and see all the diversity in life because something's always happening in New York City, '' senior Chloe Stocks said.
This moment was a huge opportunity for both choirs and it enabled them to share their music in one of the most accomplished music halls. The Girls 21 group was excited to perform there for the first time. 
"I never want to take [the performance] back because it was an exciting feeling." Stacks said.
This trip enabled Girls 21 to be able to work out of state with a new environment. Carnegie Hall is a historic building that allowed the students to perform to their best. 
Cave was hoping to "get them to experience what we love about the music. Obviously performing in a place with the history and the notoriety of Carnegie Hall it's incredibly cool to give the students that experience." 
This building let the choir groups get a feel of what it's like to be able to perform in a professional setting, and they were able to work together as a team. 
"It's a really surreal moment between the city, working in rehearsals, and working on the day of the concert together," senior Clara Barnes Horowitz said. "It was just a really cool way to bond."