Girls Tennis coming back strong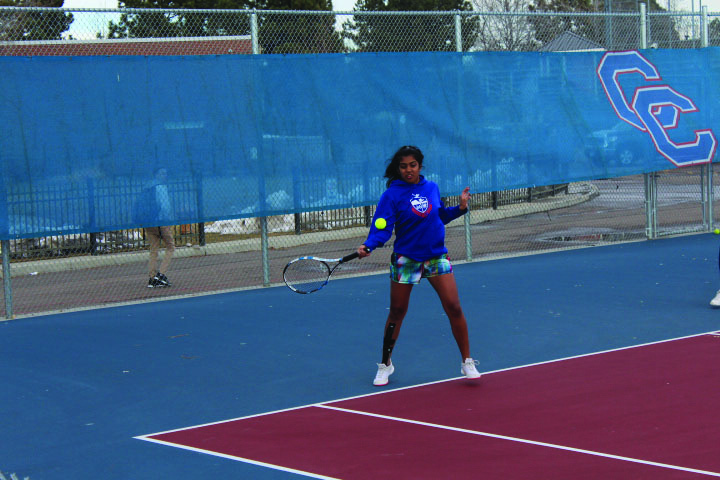 Loza Tezera, Staff Writer
April 3, 2019
Last year, the girls tennis team won state finals by the biggest margin in the last fifteen years. Under the leadership of coach Chris Jacob, the team is expecting to go to Regionals without a hitch.  
This season, the team's goal is to repeat their win at state and finish strong at their tournament in the middle of April. They don't seem to have any reservations due to the fact that some of the best players from last year have come back to beat 
Similar to the boys' program, they have about 140 players and begin competing in the spring; however, this season there have been a couple of changes. There are two new coaches; Karl Mimmack and Michael Model. Mimmack will be coaching the JV red team and focuses more on fitness and fun. Model, who is a new science teacher at Creek, will be coaching the JV blue team. 
Even though there are around 140 players, only 11 will be able to qualify for state. If the team does similar to past years, the players will be able to win individual state titles as well as team state titles.
 Although it tends to be a very competitive sport, girls tennis includes many different aspects. For example, Creek's team is more focused connecting with the sport in both a physical and mental sense. The team is able to do this through hard work and practice, but also through developing good communication and strong bonds with one another. 
 "It helps with leadership, sportsmanship and all those things that I think are important outside of the tennis court," said Jacob, who also played tennis as a Creek student. "I love that I get to help young women with all of those traits that they can take beyond the tennis court." 
Sophomore Dahlia Rappaport, who has played tennis for over five years before joining Creek's team, has seen what Jacob is reffering to.
 "Creek tennis is super special because anyone can play, no matter previous experience or skill. Every team becomes a family," Rappaport said.
Sophomore Anna Fusaris has also seen how tennis helps her communicate, as that is a fundamental part of being an effective doubles player. 
"My doubles partner taught me how to stay mentally strong even when the pressure was built up," Fusaris said. 
It all connects back to the notion that tennis is about getting to know the community within Creek, and at the same time building friendships and bonds that can last a long time.